John Herdt Music
A selection of my music you can download for free and get spaced out.
Below you will find a bunch of MP3 files that you can download. You can put them on your MP3 player or give them to friends for that use, but they cannot be sold or used in commercial projects without my agreement. The Tommy Bolin material is presented for listening only. The few other tunes on this page that I don't control are indicated in the text. My commercial CDs are listed below with two free track downloads each. They are available at CD Baby as well as iTunes and other online sources. Some tracks from some of my private release CD are also available. Further down the page are some of my other musical adventures.
JOHN HERDT CDS
See Discography page for complete list of songs on these CDs.
JOHN HERDT INTERVIEW ON KOOL RADIO, AUGUST 10, 2007
This radio interview was conducted by the great Big Daddy on KKMA Kool 99.5 FM as part of the promo for the 2007 Tommy Bolin Music Festival in Sioux City. Interviewed were guitarist John Herdt and Fest organizer Trace Keane. John plays parts of some Tommy Bolin tunes in the second half of the show. Vist Kool 99.5 FM at www.kool995.com.
JOHN HERDT AND BOBBY BERGE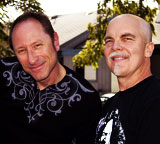 Bobby Berge and I met in 2001 and in the following year I played guitar in his band at the 2002 Tommy Bolin festival in Sioux City. Since then we have done quite a few studio and live recordings together. Bobby played drums on five tracks on my 2004 Gather CD, some of which are available above for MP3 download. Here are some other tunes we worked on. John Herdt: guitars and bass; Bobby Berge: drums. We also have some tracks posted from a live jam at Tom Thorsen's studio in Brighton, CO recorded during Bobby's trip to Colorado in 2006. You can check out some tunes from that jam by clicking here.
JOHN HERDT AND DAVID HARE
David Hare was moving from Sioux City to Las Vegas on September 21, 2007 and spent the night at my house in Colorado to cut the trip in half. We went out for a great Mexican dinner with Bev, then David and I took our acoustic guitars and his lungs into my studio, Rampant Squid, and jammed for a couple of hours. David is well known as singer for the Tommy Bolin Tribute Bands, performances by the Bobby Berge Project and for his own solo work. Here are a pair of tunes from our September 21 jam.
MIRAGE LIVE IN EVERGREEN 1984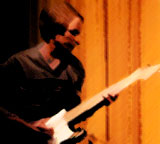 I got Mirage together in 1983 after touring with Ruckus playing commercial rock. I wanted to get back into intense instrumental rock. I had written a lot of our material before Mirage, but these guys were such good players that I count the Mirage versions as the definitive ones. This audio is from the last time we played together except for a single reunion show a year later. We played this at Mike's mountain home in Evergreen, CO, and recorded straight into a cassette deck, the only edits were to cut out pauses between tunes. John Herdt: guitar; Steve VanDewater: guitar; Paul Molnar: bass; Mike Mixter: drums. All material ©1984 John Herdt except "Country Jam" improvised by the band, "Animal Behavior" by Steve VanDewater and "Put It This Way" by Colosseum II.
UNRELEASED AND RARE STUFF
Ratchet Jaw John Herdt & Wally Z with Al Robinson
A 2004 single by John Herdt & Wally Z with bassist Al Robinson. John Herdt: guitars; Wally Z: drums; Al Robinson: bass. ©2014 Al Robinson, Wally Z and John Herdt.
Wild Dogs Acoustic Duet
In August 2004 I bought a new Taylor acoustic guitar and I recorded Tommy Bolin's beloved "Wild Dogs" just to see how it sounded. As I was listening to the playback I got inspired to overdub a lead track immediately with my Ovation Elite acoustic. John Herdt: guitars.
Morning Papers
I wrote the rhythm guitar and drum part for this tune on April 28, 2007 for a jam with Big Jim Wilson, who was in Denver for a few days from Athens, Georgia. He was too hung over to jam so I finished it myself. John Herdt: guitars, bass and drum programming.
Nothing Like Forever – Live Acoustic Version
A few people have asked for an acoustic version of this tune from my Wide Open Spaces CD, so here it is. I recorded this live on 8-18-01 at Rampant Squid Recording Studios.
Confucius – Improvised Jam
This one is for fans of hard jazz-rock fusion. It was recorded live at Dan Lile's house in Denver on 7-14-83. John Herdt: guitar; Randy George: bass; Dan Lile: drums. ©1983 John Herdt, Randy George and Dan Lile.
THE BOBBY BERGE PROJECT LIVE AT THE 2002 TOMMY BOLIN MUSIC FESTIVAL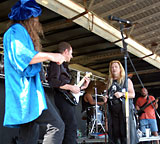 The 2002 Tommy Bolin Music Festival was held on Friday, August 9 and Saturday, August 10 at Chataqua Park in Tommy's home town of Sioux City, IA. Bobby Berge (Tommy Bolin, Buddy Miles) pulled together a band of players from around the country to open the show on Saturday afternoon as the first of six bands including headliner Rick Derringer. I was playing with a broken right hand which resulted from a motorcycle wreck I had a month before this show. We only had one rehearsal, but everyone was well-prepared going in and the rehearsal was productive and lead to a solid show. Bobby Berge: drums; David Hare: vocals; John Herdt: guitar; David Napier: baritone sax; John Birch: tenor sax; Sam Irish: bass. Jim Dandy Mangrum and Johnnie Bolin from Black Oak Arkansas sat in on vocals and drums for some songs.
JOHN HERDT'S TOMMY BOLIN TUTORIALS