Bobby Berge Music
Here are some of my musical adventures in MP3 format that you can download for free.
TOMMY BOLIN, JEFF BECK AND BOBBY BERGE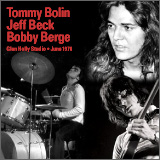 Bobby Berge relates: "Jeff Beck was in town playing a gig at a venue called the Starlight Bowl in Burbank, CA. Since Tommy knew Jeff was in town doing this gig, he got in touch and invited him over to Philip Polimeni's Glen Holly Studio. We first jammed for a half hour or so with Tommy on bass and Jeff on guitar, then took a little break and started again with Tommy on guitar and Jeff on bass. We lost the first jam with Jeff on guitar though because Philip recorded over first jam somehow, he recorded the second jam over the first one." Jeff Beck played the Starlight Bowl on June 12, 1976, so the BBB jam was recorded close to that date. This audio is a fresh restoration and mastering done in June 2008 by John Herdt, the source audio was Bobby Berge's well-worn cassette.
BILLY RYAN AND BLACK IRISH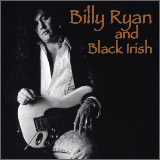 Bobby Berge relates: "Billy Ryan was a big Tommy Bolin fan, and we decided to record a studio version of Tommy's 'Crazed Fandango,' which I had previously worked on with Tommy for inclusion on his Teaser album. We recorded this version at North Star Studio in Boulder, CO around 1979. Butch Trucks from the Allman Brothers helped produce and engineer the session." Colorado guitar powerhouse Billy Ryan passed away before he could establish a large catalog of retail material. We want to give people a chance to experience the music of Billy and his great band during a time when none is commercially available. The material here includes Billy Ryan: guitar, vocals; Bobby Berge: drums; Bunny Brooks: bass, lead vocals and writing; Jim Ayers: second guitar, keyboards, vocals; Butch Trucks: percussion. Bunny Brooks wrote and sung lead vocals on Colorado Woman, Stone Cold Hustler and Use Your Head. He also sung lead vocal on Daners Place.
ENERGY WITH TOMMY BOLIN
John Herdt restored and mastered this audio in 2006 for the Tommy Bolin Archives presentation for the 30th anniversary of Tommy's passing away. We're presenting it again here. The source audio was a fairly beat up cassette Bobby had, other than that no other source is known for this inspiring tune. Tommy Bolin: guitar; Jeff Cook: vocals; Tom Stephenson: keyboards; Stanley Sheldon: bass; Bobby Berge: drums.
THE BOBBY BERGE PROJECT LIVE AT THE 2002 TOMMY BOLIN MUSIC FESTIVAL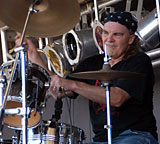 The 2002 Tommy Bolin Music Festival was held on Friday, August 9 and Saturday, August 10 at Chataqua Park in Tommy's home town of Sioux City, IA. Bobby Berge (Tommy Bolin, Buddy Miles) pulled together a band of players from around the country to open the show on Saturday afternoon as the first of six bands including headliner Rick Derringer. Bobby's band consisted of Bobby Berge: drums; David Hare: vocals; John Herdt: guitar; David Napier: baritone sax; John Birch: tenor sax; Sam Irish: bass. Johnnie Bolin and Jim Dandy Mangrum from Black Oak Arkansas sat in for some tunes and each spoke a bit. John Herdt remembers: "We opened as the first of six bands on Saturday leading up to headliner Rick Derringer and there weren't many people there yet, but the numbers grew with each tune we did and the people there were really into it." The audio presented here was recorded to minidisc from the audience by David Polhemus and mastered by John Herdt.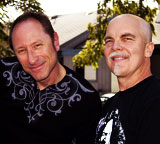 Bobby has done a number of studio and live recordings with John Herdt. Besides playing drums on five tracks on John's 2004 Gather CD, including Mountain Town, Brass Ball Concert Hall, I'll Just Make You Cry, Never Never and With Then Without You, Bobby has also worked on some recent material with John just to kick out the jams. Here are a few recent tracks with Bobby on drums and John on guitars and bass.
THE BRIGHTON JAM, SEPTEMBER 2, 2006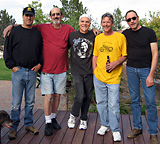 On Saturday afternoon the day before his return to South Dakota Bobby rented a drum kit and got together with John Herdt and Tom Thorsen at Tom's studio in Brighton, Colorado. Tom also brought in his friend Dan Brine, and Dan brought in his friend Billy Sucke. Here are a few tracks from that jam. Bobby Berge: drums; Tom Thorsen: keyboards; John Herdt: guitar and slide guitar; Dan Brine: guitar and vocals; Billy Sucke: bass and vocals. Bless Dan Brine, who passed away on August 3, 2008. See photos from the jam visit my Colorado 2006 page.